2020
A fiber-coupled, 20 MHz repetition rate, sub-ps Ti:sapphire laser for in vivo nonlinear microscopy of the skin  — Nonlinear microscopy, such as two-photon excitation fluorescence microscopy (2PEF), second-harmonic generation (SHG) microscopy and Coherent anti-stokes Raman scattering (CARS) microscopy is increasingly used to perform non-invasive, in vivo studies in life sciences [1]. These techniques enable us to investigate the morphology or monitor the physiological processes (e.g. monitoring drug delivery) in the skin (or the brain) by the use of ultrafast pulse lasers. Fiber (or fiber coupled) lasers are of great interest because they can easily be combined with endoscopy. This latter feature greatly increases the utility of nonlinear microscopy for pre-clinical applications and tissue imaging. In 2016, we reported on a novel, handheld 2PEF/SHG microscope imaging system comprising a sub-ps Yb-fiber laser system, which was suitable for in vivo imaging of murine skin at an average power level as low as 5 mW at 200 kHz sampling rate. The whole nonlinear microscope imaging system had the main advantages of the low price of the fs laser, fiber optics flexibility, a relatively small, light-weight scanning and detection head, and a very low risk of thermal or photochemical damage of the skin samples. In principle, 2PEF microscopy can visualize endogenous fluorophores, such as elastin, keratin, NADH, FAD, etc., while the morphology of collagen fibers can be assessed by SHG microscopy. Due to the limited photon energy of our Yb-fiber laser system operating at around 1030 nm, however, we could not efficiently excite a few of these endogenous fluorophores (such as elastic fibers, NADH, FAD) with our handheld our 2PEF imaging system. This fact considerably limited its applicability in case of rear skin diseases (such as Ehlers-Danlos syndrome (EDS), pseudoxanthoma elasticum (PXE) [2]) or in case of basal cell carcinoma (BCC), the latter one being the most common malignancy in Caucasians. In order to overcome this problem, we replaced our Yb-fiber laser by a fiber coupled Ti:sapphire laser operating at around 810 nm, whose physical parameters (repetition rate, spectral bandwidth, peak intensity, etc) were optimized for fiber delivery and low thermal load, in vivo imaging of the skin.
The 20 MHz repetition rate, sub-ps Ti:S laser used in our fiber delivery and nonlinear microscope imaging experiment is similar to that we used for real time histology of the skin [3]. For our imaging experiments, we had to make a few modifications relative to our initial setup in order to reduce the spectral bandwidth of the laser. It results in higher chemical selectivity in DVRF-CARS imaging [3] and lower sensitivity of the optical pulses for dispersive effects during fiber delivery.  To this end, we replaced the SF10 prism pair by a piezo controlled Gires-Tournois interferometer (GTI), which provided considerably higher intracavity dispersion than a prism pair. A birefringent filter (BRF) is used for tuning of the laser. Owing to the enlarged intracavity dispersion, spectral bandwidth of the Ti:sapphire laser has been reduced below 2 nm. Accordingly, the pulse duration of the laser increased above 600 fs. This four-fold reduction in the peak intensity was compensated by the lower repetition rate of our long cavity Ti:sapphire laser comprising a Herriott-cell. The laser is pumped by a 2.1 W average power, 532 nm laser. Final setup of the 20 MHz repetition rate, sub-ps Ti:S laser used for fiber delivery and imaging experiment is shown in Fig. 1.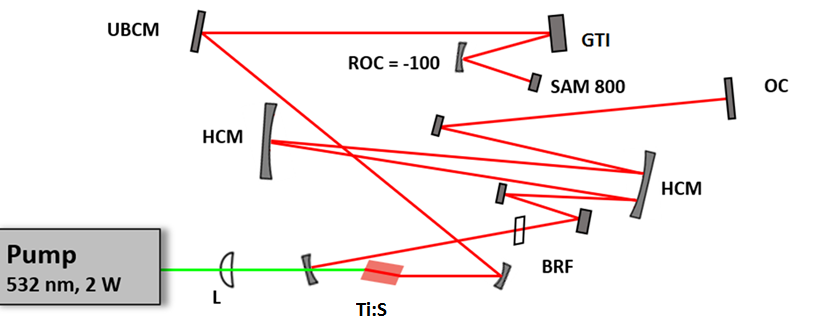 Figure 1. Setup of the 20 MHz repetition rate sub-ps Ti:sapphire laser used for fiber delivery and nonlinear microscope imaging of the skin. Ti:S: Ti:sapphire crystal (PL= 4mm), BRF: birefringent filter for wavelength tuning, HCM: Herriott-cell mirros, UBCM: ultrabroadband chirped mirrors, GTI: a piezo-controlled Gires-Tournois interferometer, SAM 800: saturable absorber mirror, OC: output coupler.
Pulse duration of the ~20 MHz laser was characterized by a PulseCheck autocorrelator (APE GmbH, DE). Depending on the intracavity dispersion set by the mirror spacing of an intracavity GTI, the pulse duration could be set in the 0.6-1 ps range (see Fig. 2.a, black dots). The Δλ < 2 nm spectral bandwidth of the laser allows distortion free fiber delivery of the optical pulses through a ~1.8 m long HC-800-2 type, commercial hollow core photonic bandgap fiber with honeycomb structure (product of NKT Photonics, Denmark) (see Fig. 2.a, red dots). The mode-locked average power of the laser is ~225 mW, after the fiber decoupling optics it is reduced to ~125 mW.
Figure 2. (a) Pulse duration of the laser vs. piezo voltage of GTI measured before (black dots) and after (red dots) a 1.8 m hollow core fiber. (b) Tumor border of BCC and (c) hemangioma detected by SHG imaging of collagen and TPEF measurement in the 500-550 nm spectral range. Laser central wavelength: 810 nm.   Average power on sample: ~20 mW. Image size: 420 x 420 µm2. Z-stack imaging range: 0-180 µm.
Fresh and frozen skin biopsies of different skin alterations (hemangioma, BCC and PXE) have been used for testing our fiber-coupled laser for z-stack imaging. In case of BCC, we could detect the border of the tumor highlighted by a strong contrast of AF (cells with basal cell morphology) and SHG (collagen fibers around tumor nest). In case of hemangioma, that is a benign proliferation of capillaries, we could observe superficial AF signal corresponding to capillaries. In case of PXE [2], however, we could not detect calcification, since our imaging depth of ~200 µm was not sufficient to reach the region of calcification, which is typically located in the mid-dermis at least 300 µm below the skin surface.