2021
Numerical analysis on ex vivo second harmonic generation images of collagen structure of unstained basal cell carcinoma sections.  — Nonlinear microscopy, such as two-photon excitation fluorescence microscopy (2PEF), second-harmonic generation (SHG) microscopy and Coherent anti-stokes Raman scattering (CARS) microscopy is increasingly used to perform non-invasive, in vivo studies in life sciences [1]. These techniques enable us to investigate the morphology or monitor the physiological processes (e.g. monitoring drug delivery in the skin) by the use of ultrafast pulse lasers. Fiber (or fiber coupled) lasers are of great interest because they can easily be combined with endoscopy [2]. This latter feature greatly increases the utility of nonlinear microscopy for pre-clinical applications and tissue imaging. Last year we reported on our fiber coupled, ~20 MHz repetition rate, sub-ps Ti:sapphire laser, which is well suited for stain-free, z-stack imaging of fresh and frozen skin biopsies of different skin alterations, such as hemangioma and basal cell carcinoma  (BCC) [2]. In case of hemangioma, that is a benign proliferation of capillaries, we could observe superficial AF signal corresponding to capillaries.  BCC is the most common malignancy in Caucasians. Although BCCs rarely metastasize, local tissue degradation may lead to severe health and cosmetic damage and inoperability.  The gold standard in the therapy of BCC is surgical excision. However, BCCs often have poorly defined borders challenging complete excision. Therefore, there is a demand for efficient imaging techniques for numerical evaluation of the tumor borders of BCC prior to or during surgery. Recently, we carried out fast Fourier-transformation (FFT) analysis on mosaic SHG images from BCC skin sections of different subtypes (nodular, micro-nodular and invasive BCC) [3]. Our aim was to investigate if there are any differences in their collagen structure and to differentiate between subtypes according to the properties of collagen fibers, as well as to determine tumor borders. Our result shows that accuracy of FFT analysis highly depends on the unit cell size parameters (resolution, physical dimension of rectangular image portions) used for FFT (see Fig. 1).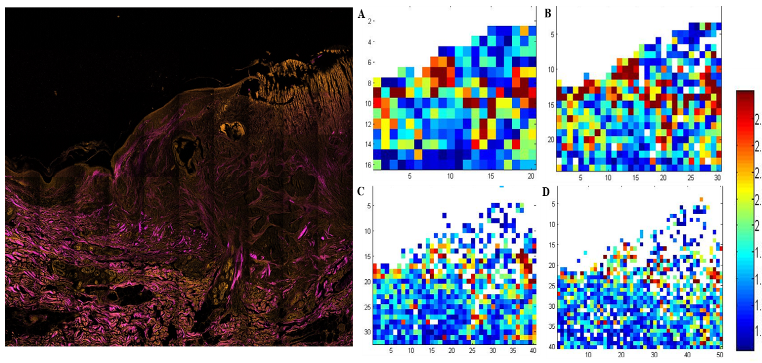 Figure 1. Stain-free two-photon mosaic image of  a deparrafinized micro-nodular BCC section (left). Magenta: SHG signal of collagen, orange: TPEF auto-fluorescence signal. Mosaic image size: 4.2 mm (H) x 4.2 mm (V). Individual image size in mosaic image: 420x420 μm2. Heatmaps calculated for different spatial resolution (right). An individual NLM image was divided to A: 2x2, B: 3x3, C: 4x4, D: 5x5 even quadrangles (unit cells) for FFT analysis to determine so called CA ratio maps.

Furthermore, we found that collagen fibers around hair follicles give similar FFT results as fibers around tumor nests, which might hamper exact determination of tumor borders. Combination of FFT analysis with two-photon auto-fluorescence imaging, however, might offer a useful imaging tool for assessment of tumor borders of BCC [3].
Low concentration Phloxine B staining for high chemical contrast, nonlinear microscope mosaic imaging of skin alterations in Pseudoxanthoma Elasticum. [4] —Nonlinear microscopy is well suited for ex vivo histopathological investigations as well on skin sections orthogonal to the skin surface, like in case of Pseudoxanthoma Elasticum (PXE), when the imaging depth of the imaging system is not sufficient or we need a low concentration staining for chemical selectivity [3]. PXE is an autosomal recessive metabolic disorder characterized by ectopic mineralization of soft connective tissue. Mineralization is located by some ~400 microns (or more) below the skin surface, which is roughly twice of our typical imaging depth at around our excitation wavelength of ~800 nm. We have developed a normalized 3D color vector representation of emission spectra of three of the main tissue components (collagen, elastin and calcification) and found that due to their broad, overlapping emission spectra, spectral separation of emission from elastin and calcification is practically impossible in fresh-frozen or unstained, deparaffinized PXE sections. However, we found that application of a low concentration Phloxine B staining after the deparaffinization process creates an imaging contrast for these two tissue components, which enables spectral decomposition of their fluorescence images (see Table 1). The obtained concentration maps for calcium deposits can be well suited for determination of illness severity by quantitative analysis.

Table 1.  Sets of color vector coordinates describing signal intensities of collagen, elastin and calcium deposits in PXE cryosections and Phloxine B stained PXE sections.  Detection channels are supplied with bandpass filters 405/20 (magenta), 460/50 (cyan) and 590/45 (orange), respectively. Color highlighting indicates the detection channel in which a given compound emits the highest nonlinear optical (SHG or TPEF) signal. For the Phloxine B stained deparaffinized PXE sections, data is expressed as mean ± standard deviation of measured values.

FLIM upgrade for our LSM 7MP microscope system. — Metabolism of living cells can be investigated by nonlinear microscopy by measuring the so called redox ratio, which can be determined by detection of the auto-fluorescence signals emitted by NADH (nicotinamide adenine dinucleotide) and FAD (nicotinamide adenine dinucleotide). These two endogenous  fluorophores play important role in cell metabolism. Their fluorescence signal, however, strongly depends on imaging conditions that is why we installed and successfully tested a FLIM (fluorescence lifetime imaging) upgrade for our LSM 7MP microscope system. Among others, it can be well suited for identification of cancer cells:  the FLIM signal does not depend on concentration, imaging depth or excitation parameters such as wavelength, pulse duration or power, but very sensitive for the micro-environmental conditions of the cells such as molecular bonds, pH or oxygen concentration, which can offer reference images for our histological images obtained by other nonlinear techniques such as CARS, SHG or 2PEF.

References:
[1] doi: 10.1126/science.aax6752
[2] doi: 10.1364/BODA.2021.DF2A.5
[3] https://www.osapublishing.org/DirectPDFAccess/32F0A34F-C0E3-449E-9FAB68…
[4] doi: 10.1364/BOE.443507